orn and raised in Texas, Rebecca is a few years shy of becoming a full-fledged New Yorker.
"In two more years, you will have lived in New York longer than Texas," her mother said sadly.
Castillo is a creative person whose talents come from the strength of the right side of her brain.
Her many talents include baking, arts and crafts, photography, graphic arts and event planning (especially kids' parties).
"She loves dressing up and playing games with children," said her life-long best friend, Monica.
Castillo made the leap to New York when she decided to attend Columbia College. She graduated in 1994 with a BA in film. She also graduated from the Columbia's Graduate School of Journalism.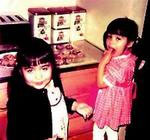 Caught in the act Rebecca and her sister in 1976.
She decided to stay in New York when Columbia Scholastic Press Association, an international student journalism association, hired her to coordinate their event planning and graphic arts. In this capacity, she has organized complex events ranging from workshops for 375 students to large three-day international convention for 4,000 people.
She also designed and coordinated the last three textbooks
for the organization. The most recent publication, Magazine Fundamentals, received national awards from The Association of Education Publishers.
Castillo believes there is value in journalism education for any student, regardless of whether journalism is his or her career calling. She volunteers with high school students to improve their newspaper and magazine publications.
Her future plans include starting a catering/event planning business and teaching journalism to high school or college students.